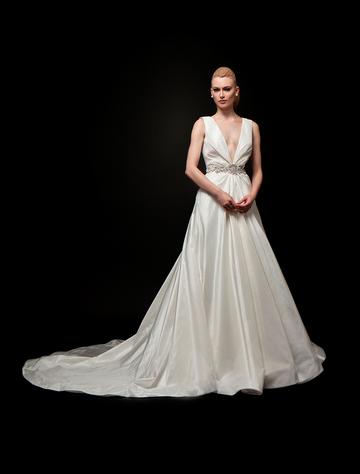 Come gown-shopping time, you'll likely have a few criteria for the dreamiest-of-dresses. Top-of-list for most brides is a style that complements skin and hair, enhances curves, and possibly downplays a less-than-favorite spot or two. Still, try-ons take time; and shopping leaves you pondering styles as numerous as the stars. In the spirit of efficiency, our post here describes the sure-fire dress silhouette consistently earning straight "A"s from brides—most recently, the new British Princess Megan (formerly Markle). The name of this perfect-for-a-princess silhouette: the A-line.

Brides of all shapes and sizes benefit from the double-blessings of an A-line. This always-timely fit enhances curves, cinches the waist, and slims and smooths over hips and thighs. A-line cuts help slimmer brides show feminine curves in all the right places, and gloss over areas of concern among average or fuller-figured gals. As if this fit weren't ideal enough, the A-line affords comfort during the long hours of a wedding day, and gives you room to move (and dance!) without feeling weighed down or constricted by unforgiving fabric.

Since the A-line provides great fit and comfort, it's no wonder it's been a style favorite since 1955. The "A-line" term was originally coined by French designer Christian Dior to describe his combination of a slightly cropped and flared jacket over a dress with a very full, pleated skirt. After the A-line's spring 1955 season premiere, fashion editors found it to be the "most desired silhouette in Paris". Today, the term has expanded to describe any silhouette fitted at the bodice and waist and widening—without pleats or gathers—at the hips. Modern A-lines are further divided into two subcategories, as described below.
The Classic A-Line
A classic A-line gown fits close at the bodice and falls in a roomier "A" shape from its fitted waist. This silhouette narrows at the top of hips through the addition of darts (hidden folds of fabric stitched to face inward). A-line gowns favor all body types by elongating and narrowing the torso and minimizing fabric around the hips. Since this style flatters at any length, you can shorten an A-line gown to one that suits you.
The Modified A-Line
Like its celebrated cousin, the modified A-line also hugs at the bodice and flares from a fitted waist. This modified silhouette slightly differs, though, by fitting a bit closer over the hips and falling in an "A" shape just below them. Even with its more slightly body-conscious fit, the modified A-line style's still sure to flatter any body wearing it.

To sum up, the A-line silhouette is a beautifully safe bet that offers great fit and comfort for virtually every bride. If you're open to new styles on gown-shopping day, we hope you'll give this fit-for- a-princess style an early chance. In the virtual sea of white and ivory of bridal salons, an A-line style is your short cut to looking "A"-mazing.
Credit: Leslie Hunt for Tony Hamawy